Denise King began her singing career quite by accident.  One day while doing Spring cleaning and sweeping outside of her house, she sang the Gershwin classic Summertime. A long time friend and guitarist Rahmann Rashid aka Raymond Welsh walked by. When he heard her sing, he was so struck by her talent that he offered to audition her for an upcoming performance. After auditioning, the rest as they say is history. That engagement was the beginning of a wonderful musical journey. 
Influenced by Sarah Vaughan, Nancy Wilson Frank Sinatra and Aretha Franklin, Denise King is an expressive, big-voiced singer who combines jazz with elements of R&B, Blues and Gospel. King was born and raised in Philadelphia, Pennsylvania where she was exposed to R&B as a child and discovered jazz at twelve years old thanks to an uncle who was an avid Jazz fan and record collector. Denise spent many hours listening to her favorite Jazz musicians and singers. Learn lyrics and phrasing. Little did she know those listening sessions would be very important years later. 
After graduating from high school, and a brief marriage, she entered the medical field and earned her living as a medical assistant and a family-planning counselor. With no formal training and hours of listening to Jazz recordings King started doing club gigs around Philly, and eventually, she became a full-time singer. 
Though she's no stranger to standards, one of King's strong points has been her ability to provide jazz interpretations of rock and soul hits -- in fact, she has turned everything from Santana's "Evil Ways" to Ruby & the Romantics' "Our Day Will Come" into swinging acoustic jazz. King started recording in the 1990s, offering Live In Japan: I Remember You in 1993, Now Ain't That Love in 1996 and Simply Mellow in 1997. 
Her early years in Jazz found her performing with or sharing the stage with such legends as Lex Humphries, Ted Curson, Arthur Harper, Brecker Brothers, Cecil Payne, Cecil McBee, Sid Simmons Christian McBride, Jerry Weldon, Bootsie Barnes and many more. It is with these musicians that she learned the art of Jazz singing. 
A strong exposure to and love of R&B and Soul music, after an introduction by Rahmann, she worked and recorded with Dexter Wansel, composer/arranger and A and R director at Philadelphia International Records.  She performed with Billy Paul of Me and Mrs Jones fame  and performed background vocals on recordings by Phyllis Hyman and Lou Rawls.  She also performed  background vocals  with Celine Dion at Madison Square Garden as part of a mass choir. 
In the early 90's, King had a very successful engagement at the prestigious La Villa Jazz Club in Paris. After sold out and standing room only shows, the manager of the club assured King that he would have her return. Unfortunately, that was not to be as the venue shuttered two weeks after her performance.  Much to her surprise in 2008, the pianist she worked with found her and reached out to her on Facebook. He told her if she could  get to Paris he would help her find performance opportunities. It was an offer that she couldn't resist. 
After selling, pawning and  liquidating her assets she purchased a round trip ticket, secured an apartment and moved to Paris. The move lead to touring extensively in Europe, signing with Cristal Records and a nomination for best Jazz vocals in France by Academie du Jazz. 
In October of 2017, for her birthday, she signed a four CD contract with Azzurra Records. 
Denise King has delighted audiences in the USA,  France, Italy, Belgium, Cyprus, Serbia, Belarus, Poland, Japan, Kazakstan, Spain, Greece, UK, Turkey, Luxembourg and beyond. 
She is currently enjoying a very  successful three month engagement at Jazz on 4 on Royal Caribbean's Oasis of The Seas, working on a new recording for Azzurra Music, and a play written by award winning author Alecia McKenzie. She has upcoming performances in Tunisia, Italy, Poland and France. 
A name to be remembered...Denise King "The King of Sing"!
Denise KING 
My Destiny 
Denise King is a native of West Philadelphia, where she was born 31 October 1964. She can be called a "natural singer" because she learned to sing, outside of any educational system, but through listening to recordings  and live jazz performance. Considered "late in life" (at 30 years old ) she began her singing career...quite by accident, having never planned to become a singer. Denise King is, above all, a kind small woman, brimming with energy, good humor and swing! As part of a tradition rooted in the history of jazz, she has sublimated the trials of life through her art in authentic jazz expression. Denise King does not overplay, or use tricks, she fully lives the songs she sings. 
She is also a living testimony that Europe remains, nonetheless, a promised land-especially Paris for American musicians. This feeling continues when the dynamism of jazz in the United States is not commensurate with what is on this side of the Atlantic. While surprising, the European dream for Jazz artist remains strong in its history, and empowerment for African Américains artist especially while racial tensions continue to haunt Obama's America.
On her first trip to Paris in the mid nineties, Denise King performed at La Villa, a popular  club in St-Germain-des-Prés for a week, This engagement became a reality when, after sending the manager of La Villa dozens of promotional materials, a cancellation open the door for her first Jazz performance in Paris. When she accepted the contract, she jumped on a plane and the rest is history. There she met pianist Olivier Hutman. The performances were well received but did not insure her return.  A few years later, in 2008, Mr,Hutman contacted her to propose working on a project together which  provided an opportunity for the singer to move to Paris part time What follows is a collaboration that lasted  six and produced two recordings and tours throughout Europe. 

In October, she released, Seasons of Jazz (Dot Time Records). which is a collection of four mini-albums (EP), Volume 1 (Fall) has been available since last November. She will also be a part of the International Jazz Day in Paris on 30 April, 2016 at  Tres Honore Salon  (35, place du Marché St Honoré, Paris 1). 
Interview by Jerome Partage
Patrick Martineau Photos 

© Jazz Hot 675, Spring 2016
Translated by Google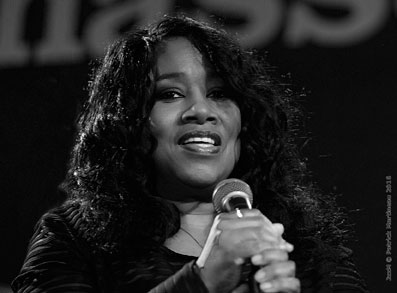 Denise KING

My Destiny

Denise King est un pur produit de Philadelphie, où elle a vu le jour le 31 Octobre 1954. On peut la qualifier de «natural singer» car elle s'est formée seule au chant, en dehors de tout circuit pédagogique, par son seul contact direct avec le jazz. Et c'est «sur le tard» (à 30 ans) qu'elle a débuté sa carrière de chanteuse, sans l'avoir préméditée (comme elle l'explique ici). C'est que Denise King est avant tout une nature. Un petit bout de femme débordant d'énergie, de bonne humeur et de swing! S'inscrivant dans une tradition ancrée dans l'histoire du jazz, elle est de ces personnages qui ont su sublimer les épreuves de l'existence par leur art, dans un rapport authentique à l'expression jazzique. Car Denise King ne surjoue pas, n'utilise pas d'artifices, elle vit pleinement les chansons qu'elle interprète. 

La chanteuse est également le témoignage vivant que l'Europe reste, malgré tout, une terre promise –particulièrement Paris– pour les musiciens américains. Que ce sentiment perdure alors que le dynamisme du jazz aux Etats-Unis est sans commune mesure avec ce qu'il est de ce côté-ci de l'Atlantique, a de quoi étonner. Mais le rêve européen demeure fort de son histoire –et toujours synonyme d'émancipation pour les artistes afro-américains– alors que les tensions racistes continuent de hanter l'Amérique d'Obama.

Lors de sa première venue à Paris, au milieu des années quatre-vingt-dix, pour une semaine, Denise King se produit à La Villa, le club de St-Germain-des-Prés. Rentrée à Philadelphie, elle inonde le patron du club de matériel promotionnel pour y revenir. Quand il accepte, suite à un désistement, elle saute dans un avion pour honorer son engagement. Là, elle rencontre le pianiste Olivier Hutman. Quelques années plus tard, en 2008, il la contacte pour lui proposer de travailler ensemble. C'est l'occasion pour la chanteuse de s'installer à Paris. S'en suit une collaboration d'environ six ans et des tournées à travers l'Europe. 
Aujourd'hui, elle sort, au fil des mois, un album en quatre parties, Seasons of Jazz (Dot Time Records), soit quatre mini-albums (EP), dont le Volume 1 (l'automne) est disponible depuis novembre dernier. Elle se produira, par ailleurs, dans le cadre de l'International Jazz Day, le 30 avril, au Très Honoré (35, place du Marché St-Honoré, Paris 1er).
 

Propos recueillis par Jérôme Partage
Photos Patrick Martineau


© Jazz Hot n°675, printemps 2016